Venture North and West of Los Angeles and You Encounter a Handful of Hidden (and Not so Hidden) Gems of La Residential Real Estate. The Only Question Is Which Gem Fits You Best
Los Angeles real estate is often defined by a small, albeit extremely well-known group of neighborhoods and communities. There's Hollywood and the glamorous enclaves of Bel-Air and Brentwood. Further west is the posh hillside environs of Pacific Palisades. And who can forget the ritzy independent city of Beverly Hills?
Of course, there's a reason these areas are the talk of residential real estate. They represent some of the toniest and most exclusive addresses in the country.
However, for those in the know or willing to look beyond the name-brand neighborhoods of Los Angeles, there is a collection of communities that offer their brand of luxury residential living just to the northwest of the city.
These beautiful retreats feature a more modest, but no less spectacular, level of opulence. While maybe not as over-the-top as the estates and compounds in and around Santa Monica Boulevard, these rural/suburban enclaves along Ventura Boulevard possess plenty of magnificence and grandeur. Places such as Calabasas and Hidden Hills draw their share of celebrity residents.
Beginning with Studio City due north of the Sunset Strip and stretching west along U.S. 101 to Westlake Village, this collection of 11 neighborhoods provides a distinctive living to fit all manner of wants and needs. The only question remains: Which of these LA neighborhoods is right for you?
Agoura Hills and Westlake Village
Who's it right for Established families who want a varied lifestyle and don't mind it being in a remote corner of Los Angeles County?
Agoura Hills and Westlake Village are the first of several north Los Angeles neighborhoods on our list that fly under the residential radar. Together, fewer than 30,000 residents call these neighboring communities home. We refer to them as one given their distance from Los Angeles — roughly a 45-mile drive along Ventura Freeway. But both locales offer homebuyers a lifestyle that is anything but remote. They remain tethered to many Los Angeles and Ventura County hot spots, particularly those in Thousand Oaks, which is less than 15 minutes away. In Agoura Hills, the beaches of Malibu to the south are an easy 20-minute drive, and the hiking and outdoor pursuits of Cheeseboro and Palo Comado Canyon are directly accessible to the north. Life in Westlake Village centers around its namesake master-planned village and lake. Big houses and small boats offer a unique homeownership experience.
Bell Canyon
Who's it right for: People who prefer high-end accommodations, both rural and isolated.
For our next community, we travel north into Ventura County and the unincorporated area of Bell Canyon. Equine-friendly Bell Canyon is roughly an hour outside of LA. It sits at an elevation of 1,368 feet in the Simi Hills. The tradeoff is a level of seclusion and exclusivity that's impossible to find in a metro area of over 13 million people. Named after homesteader Charles A. Bell, the neighborhood is a gated utopia in the truest sense of the word. The community ranks as one of the most affluent in California, with annual median incomes approaching $250,000 and average home prices regularly going for seven figures. To fully appreciate the lifestyle here, consider the convenience of being able to board your horse at the community's Bell Canyon Equestrian Center, which includes four barns, 84 stalls, and two lighted riding arenas, or having enough room on your property to build your horse stalls.
Calabasas
Who's it right for: Luxury-loving suburban dwellers who value a community-driven lifestyle with an abundance of nature nearby.
Outside of Studio City, the most well-known of the neighborhoods on our list is Calabasas, about 30 minutes outside of Los Angeles. Serving as the gateway to more distant locations of western Los Angeles County, Calabasas defines rural/suburban living. Considered one of the country's wealthiest cities, there are plenty of modern conveniences and creature comforts. The area has long been a thriving tech center and still serves as the home base for both startups and more established firms. Calabasas is the corporate headquarters for The Cheesecake Factory and Harbor Freight Tools.
Encino
Who's it right for: Those who desire to be in the middle of it all.
Encino is perfect for luxury homebuyers seeking plenty of housing options and plenty to do in an area near many of Los Angeles' most popular destinations. With major thoroughfare Ventura Boulevard bisecting the community, Encino features two distinctive regions. It also bridges the gap between the mountainous terrain north of Brentwood and the suburban sprawl characteristic of northern Los Angeles County. To the south, the community is decidedly more rural, with San Vicente Mountain Park and Mulholland Drive making up the southernmost border. There are also several scenic neighborhoods featuring old and new homes with tons of personality. North of Ventura Boulevard is more classic suburban living, including the expansive Sepulveda Basin Recreation Area and Wildlife Reserve.
Hidden Hills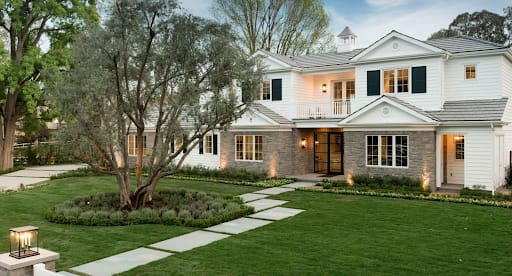 Who's it right for: Privacy seekers who don't mind sharing lot lines and green space with the celebrity elite.
The gated residential enclave of Hidden Hills north of Calabasas is something of an outlier in this portion of Los Angeles County. While many of Hollywood's elite opt for homes closer to LA, Beverly Hills, or coastal Malibu, Hidden Hills offers a picturesque setting for stepping back from the spotlight. The tradeoff for living almost an hour outside of Hollywood is grand, secluded homes on oversized lots with dramatic landscaping and views stretching for miles in all directions. Homes within the community regularly fetch eight figures. Those buyers are often notable entertainers, including Kanye West and Kim Kardashian, Britney Spears, Will Smith and Jada Pinkett Smith, Jaime Foxx, and Melissa Etheridge.
Sherman Oaks
Who's it right for: Established families who favor elegant residential neighborhoods.
More traditional than the other neighborhoods on our list, Sherman Oaks is suburban living at its most refined. South of Ventura Boulevard, which divides the community, modest homes mix with impressive estates on winding streets. To the north, the city features classic city block living, homes rich with personality on vibrant, well-manicured streets. Sherman Oaks also places you near a wide array of shopping and dining, and a lively nightlife scene.
Studio City
Who's it right for: Urbanites and suburbanites who crave a faster pace and aim to keep the bright Hollywood lights within arm's reach.
To be sure, Studio City is by far the most Hollywood of the communities on this list. Little surprise as it's home to its namesake CBS Studio Center and neighbor to the popular Universal Studios Hollywood. If Hollywood had its suburb, Studio City would be it. But don't let proximity and pedigree fool you. Studio City is a dynamic community with canyon and hillside estates on the southern side of Ventura Boulevard and a more familiar streetscape living on the north (case in point, the Brady Bunch House is located here). There are also excellent schools, a highly celebrated food and drink scene, and a nightlife befitting an area that is considerably more outgoing than surrounding communities.
Tarzana
Who's it right for: Value seekers who want a lot for their money and want it in a standout location.
Author Edgar Rice Burroughs once owned the land that would eventually become modern-day Tarzana. The character he created was, you guessed it, Tarzan. Tarzana sits just to the west of Encino. Unlike several of its neighbors, most of Tarzana's land and housing lie to the south of Ventura Boulevard. This produces an extensive choice of homes with large lots along curved, heavily foliaged streets. It's also a desirable landing spot for those seeking to have their homebuying dollars stretch further than LA County's pricier enclaves.
West Hills
Who's it right for: Individuals and families who are searching for a laid-back residential experience off the beaten path.
North of Hidden Hills is the less exclusive, and mostly residential, West Hills. Far from being a compromise location to lay down roots, West Hills features several highly convenient commercial zones and direct access to three open space parks: El Escorpion, Bell Canyon, and Upper Las Virgenes Canyon. The community boasts many parks, green spaces, and recreation areas, and several historic landmarks are recognized as Los Angeles Historic-Cultural Monuments.
Woodland Hills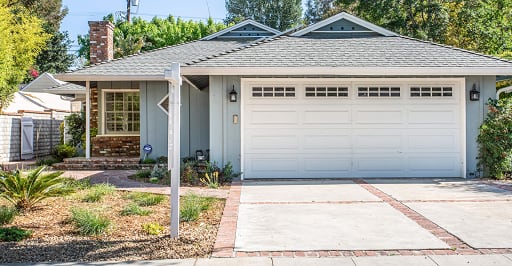 Who's it right for: Homebuyers who want a little bit of everything without having to pay eight figures to get it.
As one of the largest communities in this part of Los Angeles County, Woodland Hills is a crowd-pleasing spot for people seeking a low-key, yet active, lifestyle. Home prices are far more competitive across much of the community, especially compared to the pricier estates in neighboring Calabasas and Hidden Hills. Woodland Hills provides residents with arguably one of the most varied lifestyles in the entire county. You can trek outdoors for hiking and other outdoor activities in both the northwestern and southeastern corners of the community or partake in the bustling restaurant and bar scene along Ventura Boulevard. At the heart of it all is the master-planned Warner Center. This mixed-use development features a corporate park, major retail shopping, and several parks and walking paths that lend the space an urban feel.
Interested in an exclusive home in the Hidden Hills gated community? Or are you seeking luxury homes in Calabasas? Contact
Yoav Astman and The Astman Group
today and allow them to be your guide to the best of Calabasas, Hidden Hills, or any of the other fabulous commutes featured above.